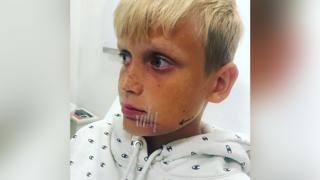 The coastguard is warning about the dangers of diving into harbours after a 12-year-old boy was injured at a harbour in Aberdeenshire.
Andrew Adam has undergone facial surgery after the accident at Gourdon harbour on Tuesday afternoon.
Andrew had jumped into the water and was knocked unconscious when another boy landed on top of him.
He was recovered from the water by his friends and a bystander by the time emergency services arrived.
Andrew's mother, Helen Esmer, said her son was "a bit shaken up still".
"Obviously the severity of what happened yesterday has shaken him a little," she said.
"But other than the gash on his face he's actually OK."
Ms Esmer said that after Andrew was injured his friends had done the right thing.
She said: "One of his friends has realised something has gone terribly wrong. He's jumped into the water, turned Andrew over.
"He's then come to but very confused, not sure what was going on, what had happened. His eyes are rolling around a little bit in his head there. (His friends) have managed between them to push him along to the ladder at the side of the harbour.
"With the help of friends from underneath and a very lovely chap at the top of the harbour wall, they've managed to get him up and over. And that's when, obviously, the ambulance was called."
She added: "These boys are heroes in my eyes."
The emergency services have repeated their warnings about jumping into the sea.
'Really dangerous'
Coastguard Gordon Barton said: "Jumping off of harbour walls and other structures into water can be really dangerous.
"What might have been a deep pool can become a shallow puddle just a few hours later and you do not know what else is below the water. Please don't jump into the unknown."
Ms Esmer said the incident was a reminder of the risks involved but said a balance had to be struck.
"You have to obviously weigh up the risks and the danger when jumping into open water – like the North Sea in particular," she said.
"But I do think think that these boys are usually very careful and accidents can happen anywhere.
"I really want our boys to still be boys and not wrapped in cotton wool."
What is often called tombstoning – leaping into the water from harbour walls, cliffs or bridges – has led to more than 20 fatalities over the past decade and multiple injuries.