Formula 1 driver Romain Grosjean thwarted a burglary attempt to prevent harm to his family after returning home from the Canadian Grand Prix.
After returning home from yet another frustrating Formula 1 race, this time in the Canadian Grand Prix, Rich Energy Haas' Romain Grosjean was left with an even more challenging situation.
The 33-year-old Frenchman confronted burglars to protect his family during a robbery attempt at his home in Nyon, Switzerland. He reportedly scared off the burglars when he entered the corridor that they broke into, thwarting their attempt to rob his home and inflict any harm on anybody.
Grosjean posted about this situation on Instagram.
Grosjean's wife, Marion Jolles Grosjean, hailed her husband a hero for the action he took. She, too, posted about the situation on Instagram.
In English, here is what her post states:
"Often, sportsmen who perform great performances are said to be heroes. I have never agreed with this term; they do not save the world, they embellish it! Of course, it's already a lot. Today though, I can tell from my husband that he is both a sportsman and a hero. This French window is the one by which burglars entered our home that night. No one has been hurt happily, and our children will never even know of the fright that has been ours, thanks to @grosjeanromain who has not hesitated to leap in front of them to block their way and protect his family. I have never liked to display our private life in the press or on the networks, but the heroes win to be known, to be recognized, and I live with one of them. Thank you my love."
Grosjean had just finished in 14th place in the 70-lap Canadian Grand Prix around the 14-turn, 2.71-mile (4.361-kilometer) Circuit Gilles Villeneuve road course on Parc Jean-Drapeau in Montreal, Quebec, Canada. This race was just the fourth race that he has finished through the season's first seven races.
With two 10th place finishes so far this season, Grosjean currently sits in 17th in the driver standings with two points and an average finishing position of 14.43. However, he has had a better start to this season than last season, as it took him until the season's ninth race to score any points last season. He ended up recording seven top 10 finishes in the season's final 13 races en route to a 14th place finish in the standings.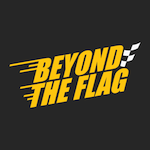 Want your voice heard? Join the Beyond The Flag team!
As Romain Grosjean's wife stated, sportsmen and heroes are two different terms in themselves, but in the case of the Formula 1 driver to whom she is married, they both fit.