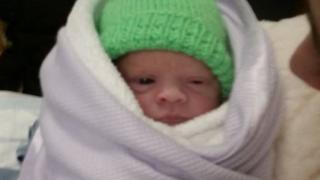 A woman who went into premature labour in heavy snowfall has been helped by a customer and Asda staff as she waited more than three hours for an ambulance.
Roxanne Campbell walked into the store in Bodmin, Cornwall for help when her contractions began nearly three weeks early at about 17:00 GMT on Thursday.
Heavy snow delayed the ambulance and scores of vehicles were abandoned on the A30 in Bodmin overnight.
Amelia Campbell was born at Treliske Hospital at 20:21 and weighed 5lb 5oz.
Her delighted father Alex Campbell said his wife and daughter were "doing great" now and praised the Asda staff and Jess Creasey, a trained first aider, who responded to a store announcement for medical assistance.
'They were amazing'
He said when the contractions started he was "panicking a bit".
"Basically we had to get all the way to Truro from Bodmin, and there was no buses, no trains, and none of us drive," he continued.
"We just got stranded outside the front here. It was the nearest place that was warm."
Store manager Lee Coshall organised for Mrs Campbell to be taken into a backroom for privacy, and tried to keep her warm and calm while they waited.
Mrs Creasey, from Bude, said: "They were amazing, they gave us everything we needed for free, straight off the shelf."
The ambulance was called at about 17:00 and eventually made its way through the traffic and weather at 20:00.
Other motorists were not so lucky and resorted to abandoning their cars on the A30 as heavy snow caused traffic chaos on Thursday.
More than 100 of those who left their cars sought emergency shelter overnight in the nearby Jamaica Inn, made famous by Daphne Du Maurier's classic novel of the same name.
General manager Sammy Wheeler said people had trudged through the snow for up to five miles to reach them as "people were fed up of being in a cold car and they were running out of fuel".
Despite their difficult journey she said spirits were "incredibly high" among the guests, who included about a dozen children and an eight-month-old baby.
Meanwhile about 300 stranded students slept at Callywith College overnight.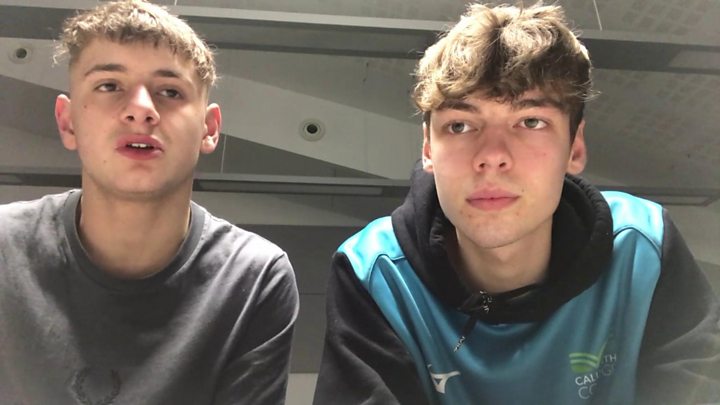 Police said the A30 had become "passable" by noon but the Highways Agency said its efforts to clear the road had been hampered by scores of abandoned vehicles.
Devon and Cornwall Police said it had dealt with about 600 snow-related incidents on Thursday and overnight and the A38 was closed after a HGV crashed in the snow.
Ch Insp Adrian Leisk said: "It's the equivalent to a busy New Year's Eve so our resources were extremely stretched.
"We had a few problems with a gritter truck that broke down on arrival at the A30 that didn't help.
"The main issue now is about abandoned vehicles and making sure people treat the road network with care."
Paul Davies, who was stranded for eight and a half hours, said: "The heavens opened and the snow came down and it became very deep and impassable very quickly.
"We were on Bodmin Moor about to go down a very steep hill and that became impassable so everyone just ground to a halt.
"We finally got moving at 23:30."
Many schools were closed across the South West on Friday and Newquay Airport was closed until 12:00 GMT.
The sports hall at Callywith College in Cornwall became a makeshift dormitory for 300 students who because of the weather had been unable to leave either in their own vehicles or the college-run bus service.
One student Indi said: "It was just too thick to drive through."
Fellow student Chris left his car at a petrol station and walked an hour and half back to the college.
He said: "It was the right decision in the end as we would have been freezing out there."
"We had around 300 people all in the sports hall, obviously we're all good friends so it's not too bad, we made the best of a bad situation," he added.