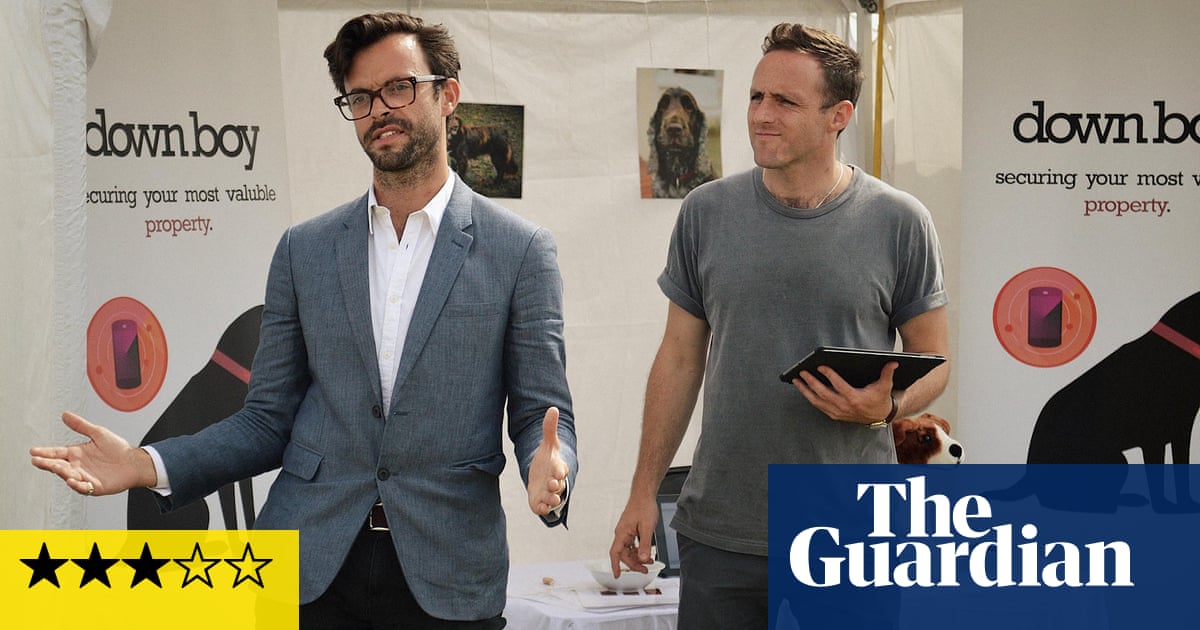 Jolyon Rubinstein and Heydon Prowse, the pranksters behind three series of The Revolution Will Be Televised, are as much admired for their audacity as anything else. Suckering politicians and business leaders requires nerve, and the show was sometimes more squirm-inducing than funny. But if the targets deserved it, that was fine.
The pair's latest endeavour, Ministry of Justice (Channel 4), aims to do for crime what TRWBT did for politics and capitalism: mine hypocrisy for laughs. You can see why they felt the need to branch out – the politicians and their minders were probably starting to recognise them – but crime is a blurry target. Who are you pranking? Criminals? Law enforcement? Most of the time, they seemed content to bewilder members of the public.
Take, for example, the actor posing as a would-be Olympic athlete, trying to obtain clean urine from passersby in a park. Most people were too polite, or baffled, to refuse outright; they just said they didn't have to go. It's probably what I would say, although I liked the guy who admitted that his urine wasn't clean. A couple of obliging men supplied a sample on the spot, which I suppose confers success on the prank, but nobody seemed to fall for it entirely, or even fully understand it.
Getting strangers to hand over some wee, or hold the lighter while you do a bong hit in the street, doesn't reveal hypocrisy, just a general lack of concern. When it was funny, it was usually because the target – dealer, user, perplexed bystander – was surprisingly charming.
The main thread involved a disruptive (and fake) app the pair wanted to develop, called InstantGrammes, which was meant to be like Uber or Deliveroo, but for drugs. Design teams were consulted – nobody batted an eyelid, or at least no batting eyelids were shown – and the public seemed only too happy to sign up. "I'm just surprised it's legal," said one potential customer.
"We're a tech company," said Prowse. "We're connecting people that may have stuff with people that may want stuff." This seems to allay any fears. "Yeah, OK, I'm in," the guy said.
They pressed on with their development plans, interviewing potential dealers. "Have you ever hidden in a bin for more than an hour?" was one of the questions. Rubinstein and Prowse can draw on an unflappable, deadpan demeanour when they need to do the more excruciating stuff, but by this point the satire seemed a bit laboured. If the joke is that no one under 40 cares that drugs are illegal, that conclusion was arrived at too easily to warrant all the bother.
The reason for this may be the tide of legalisation that could soon lap these shores. One of the more successful outings was the InstantGrammes team's exploratory visit to a medical marijuana trade fair in London: a conference centre packed with entrepreneurial zealots talking about the coming Green Rush. "My mission," said one, "is to make the world a better place through cannabis and design excellence."
It was funny when the pair finally made their pitch – "How many times have you guys been outside a kebab shop waiting for a drug dealer who doesn't even turn up?" – to a roomful of earnest investors, but it's clearly hard to faze people who sell pot for a living. Towards the end they somehow managed to convince Iain Duncan Smith that InstantGrammes was a real thing, and even coaxed him into a lukewarm denouncement for the cameras, but this sort of thing has been done before, to better effect.
Off the topic of drugs, the ritual humiliation of a sleazy buy-to-let landlord felt deserved, but confused. Fergus Wilson, who once tried to ban single mothers, Asians and, weirdly, plumbers, from living in his properties, thought he was fronting a Dragon's Den-style TV pilot, but he never seemed to realise that the piss was being taken. That moment, if it came at all, was not caught on camera. I suppose it's good that his time was wasted, but then so was mine.
I'm not suggesting this sort of thing needs to be hard-hitting to be funny – if the prank is well-executed a soft target is fine. Perhaps the rest of the series will tackle subjects with more to offer. If this instalment taught us anything, it's that the war on drugs is over, and the drugs won.