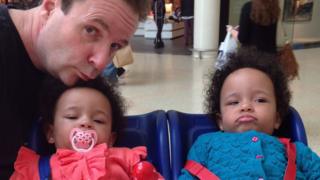 A man who had a "catastrophic" heart attack at a GP surgery had a delayed transfer to hospital by ambulance, an inquest has heard.
David Currie, 50, was at his surgery in Peterborough after a night of chest pain when he collapsed in October 2016.
Staff called 999 and he died in hospital later that day, Huntingdon Coroner's Court was told.
The assistant coroner said: "Whether an earlier admission [to hospital] would have altered the outcome is unclear."
Recording a narrative conclusion, Rosamund Rhodes-Kemp said Mr Currie died from a "previously undiagnosed left ventricular failure".
She said: "There was a delay in the transfer by ambulance and therefore getting Mr Currie to [Peterborough City] hospital."
The inquest heard Mr Currie "felt dizzy and unwell" when he arrived for an appointment at Old Fletton surgery on 3 October.
'Breathless' phone call
He was found sitting on the floor of the toilet by a nurse and he had had diarrhoea and been vomiting.
Staff said Mr Currie was alert and talking and had not complained of any chest pain.
GP Kaushik Pillalamarri told the inquest Mr Currie's notes were "reassuring" and his symptoms "appeared like a patient with gastroenteritis".
He said he arranged for a non-urgent ambulance to take Mr Currie to hospital within the hour for a second opinion.
Caroline Currie said her "breathless" husband had complained of chest pain during a brief phone call to her while he was at the surgery.
She told the inquest: "When my husband's case became an emergency, he was in the wrong place.
"He trusted them… and he died waiting for them to ensure his follow-on care."
Ms Rhodes-Kemp said the ambulance request had been "quickly upgraded to an emergency" when Mr Currie's condition deteriorated and he was resuscitated initially by surgery staff.
He died at 16:58 BST, having spent a total of three-and-a-half hours at the surgery.