Police are appealing for help to trace a man who pushed a fellow pedestrian into the path of rush hour traffic in central London.
CCTV footage released by City of London police on Tuesday showed the 57-year-old victim being shoved into the road on New Bridge Street, which leads to Blackfriars Bridge. A taxi heading southwards can be seen screeching to a halt to prevent hitting the man who fell on to his front, sustaining grazes to his hands and arms. Police said he was also briefly dazed.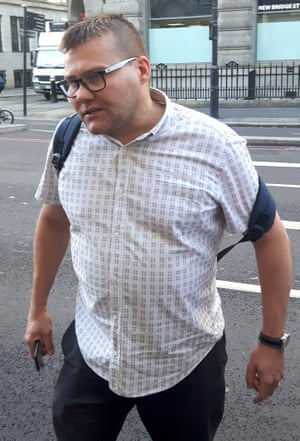 The incident occurred at about 8am on 23 July, after the man and the suspect had brushed shoulders and exchanged words moments earlier, police said. He continued to walk in a northerly direction on his way to work but was followed by the suspect who then pushed him into the road.
Members of the public assisted him and some followed the suspect to confront him. One member of the public took a photo of the suspect, which was released by police alongside the CCTV footage.
A City of London officer said: "We would like to speak to anyone who witnessed this incident in July or who may know the man in the photograph.
"The quick-thinking actions of the taxi driver undoubtedly prevented this incident having much more severe consequences for the victim. However, he is still naturally shocked and horrified by what happened to him."
The case has echoes of that of the Putney Bridge jogger, who pushed a woman into the path of a bus in south west London last year. The bus driver was hailed as a hero after swerving to avoid the 33-year-old. The jogger became notorious after CCTV footage was released but, in June this year, having investigated 50 people, police said they were closing the case as all lines of inquiry had been exhausted.