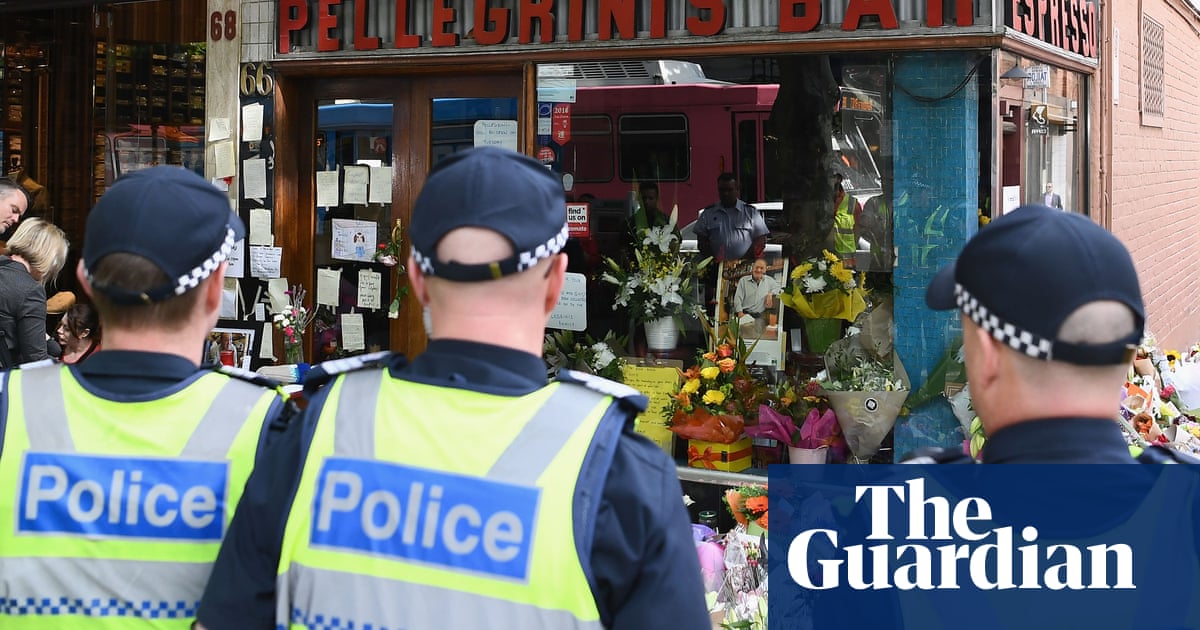 Terrorism experts and lawyers have dismissed claims by the prime minister that Muslim community leaders need to do more to intervene in the wake of Friday's fatal Bourke Street attack, and have criticised politicians for their punitive response to such incidents.
The national president of the Australian Lawyers Alliance, Greg Barns, said police and Asio already had almost 80 pieces of legislation "at their fingertips" which had been introduced over the past 17 years to deal with terrorism or suspected terrorism.
"Legislating further is a dumb response," he said.
Scott Morrison told Sky News on Monday that Islamic leaders needed to do more to prevent terrorist attacks. "If you're an imam or a leader in one of those communities, you need to know who those people are in your community that might be doing that," the prime minister said. "They are the infiltrators."
The comments were echoed by the home affairs minister, Peter Dutton, who told the Seven Network: "Let's be real, we need people to do more and certainly that's what we would expect from the Islamic community."
The comments came as early polling booths opened on Monday ahead of the Victorian election later this month, in which issues of law and order have taken a front seat.
The Labor premier, Daniel Andrews, supported Morrison's comments that Islamic leaders have a responsibility to identify and call out terrorism. He added the police commissioner would receive any further resources he requested. Andrews also rolled out anti-terrorism bollards throughout the city following a fatal siege in Brighton in 2017, which was not terror-related. He has also tightened bail laws.
The opposition leader, Matthew Guy, said if elected as premier on 24 November he would expedite mandatory sentencing reforms and deport violent offenders in Victoria on visas. Neither of those measures, however, would have prevented Friday's attack.
Barns, who as a barrister has advised and appeared in cases involving anti-terrorism laws, told Guardian Australia that attackers rarely interacted with Islamic leaders nor regularly attended mosques. He said the comments from Dutton and Morrison were "scapegoating, racist and simplistic".
"These people who commit these crimes fly under the radar, including who they associate with," Barns said.
"And then you have opportunistic politicians in both Guy and Andrews who are obsessed with wasting taxpayer funds on gross incursions into the rights of individuals and neither party is interested in more sophisticated responses. These are isolated incidents that occur, but there seems to be this bullshit view that we have to stop this from happening ever.
"Well, 364 days of the year these acts don't happen and are prevented. The reason why people commit actions of the type committed in Bourke Street are complex, and simplistic slogans and solutions by politicians have not resulted in a violence-free Australia and never will."
Barns called for a holistic approach that included examining the mental health system and ensuring it was accessible to people from other countries, and on programs to keep people well-connected and integrated with their communities.
"What we shouldn't do is draw a conclusion that all people who are refugees from Somalia are dangerous or that all those with mental illness are dangerous," he said.
Michelle Noon, a criminologist and forensic psychologist with RMIT university who works with the clinically dangerous and assists Victoria police, said international evidence had shown tough-on-crime approaches did not reduce the incidence or severity of crime.
"What they do is placate the community," Noon said.
Over-policing and a lack of willingness from the Australian community to support new immigrants exacerbated community tension, she said.
"These punitive political responses could increase tensions and that lack of welcome and support to immigrants. We live in a really safe community and we should build resilience by continuing to be in that community and work together to support each other.
"Victoria is not only one of the world's most liveable states; it is also one of its safest. Despite this, election after election we see that votes are won from increasing the community's fear of crime."
The executive director of the Forum on Australia's Islamic Relations, Kuranda Seyit, described Friday's attack, which saw restaurateur Sisto Malaspina killed, as "absolutely shocking and abhorrent".
"The saddest thing for me was the gentleman who was killed was one of the nicest people you could ever meet, a sweet and kind soul, who tried to assist the attacker unknowingly going to his death," Seyit said. "My sympathies go out to his family."
But he said Muslims had been "dragged into mud once again" by politicians.
"This is something that all of us have scratched our heads about dealing with, the federal police, the government and community leaders, it is near impossible to … prevent radicalisation," he said.
"However, we must not blame Islam for these radicalised people who take violence on to our streets."