Liam Fox has pulled out of an economic forum in Saudi Arabia likely to be boycotted by other international leaders and corporations following the alleged murder of the journalist Jamal Khashoggi.
Britain's international trade secretary had been due to attend the Future Investment Initiative (FII) conference in Riyadh next week, but the gathering, also known as Davos in the Desert, has been the subject of growing controversy as gruesome details emerged of the journalist's apparent death at the Saudi consulate in Istanbul.
Khashoggi, a critic of the Saudi regime, was apparently tortured to death and dismembered in the building, having attended to obtain a divorce certificate.
A government spokesman said Fox had decided it was not the right time to attend the conference and explicitly tied the decision events in Turkey. "The UK remains very concerned about Jamal Khashoggi's disappearance," the spokesman said.
"We encourage Turkish-Saudi collaboration and look forward to the kingdom of Saudi Arabia conducting a thorough, credible, transparent and prompt investigation, as announced," the spokesman said. "Those bearing responsibility for his disappearance must be held to account."
Other senior figures have already dropped out of the event, including the head of the International Monetary Fund, Christine Lagarde, and representatives of major tech and media companies such as Google, Uber, the New York Times and the Financial Times.
The former international development secretary Andrew Mitchell had been among those calling for Fox to boycott the event.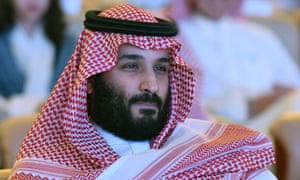 "As matters stand it would be inconceivable that a British minister could attend this Saudi economic function next week," he told the Times.
The foreign secretary, Jeremy Hunt, signed a statement of G7 foreign ministers on Wednesday demanding answers on Khashoggi's disappearance.
"We remain very troubled by the disappearance of prominent Saudi journalist Jamal Khashoggi," the statement said, calling for a "thorough, credible, transparent, and prompt investigation, as announced."
Allan Hogarth, Amnesty International UK's head of policy and government affairs, welcomed the cancellation, calling it "a recognition of the fact that cheerleading for business in Saudi Arabia when the country is accused of murdering a journalist is simply beyond the pale".
Hogarth said conducting business with Saudi Arabia was "tainted well before the shocking disappearance of Jamal Khashoggi".
"The UK needs to seriously re-appraise its entire relationship with Saudi Arabia, breaking free of overly-cosy relations which have seen ministers unwilling to publicly criticise human rights abuses in the country."