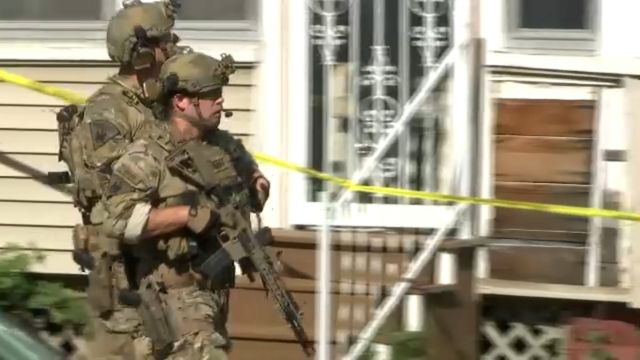 Rochester police are being credited with quick thinking, bravery and relying on their training for keeping a bad situation from becoming much worse. 
A shooter identified as Terrell Blake, 40, shot a total of three people Wednesday morning and led police on a chase through the city before being killed. 
One other person, identified only as a 28-year-old woman believed to be a former romantic partner of Blake's, was killed. The other two victims, listed in stable condition, have been identified as Blake's 20-year-old son and a man believed to be the woman's current romantic partner. 
In all two people, including the suspect, were killed and two others were injured in related shootings. As police investigated, the Rochester City School District placed all schools on lockout.
Police believe the suspect had planned out a much bigger attack, intending to kill his family. 
It began when police were responding to a call for a shooting on Post Avenue, near Arnett Boulevard, in the city's 19th Ward around 9:40 a.m. That's where police found one woman dead and a man injured. The injured man, believed by police to be the female victim's current partner, was taken to the hospital, where he was listed in critical but stable condition Wednesday evening.
About 40 minutes into the homicide investigation on Post Avenue, police received a call for another shooting on the city's east side, on Frances Street. Police say the victim from the Frances Street shooting is Blake's 20-year-old son.  He is said to be in stable condition and is expected to recover, according to police.
"At approximately 9:40 this morning we received 911 calls for persons shot near the 200 block of Post Avenue," said RPD Capt. Anthony McMullen. "Our officers did respond and found one victim conscious and that victim has been transported to the hospital. A second victim was also found inside the location, deceased. Our homicide unit is on scene right now. While we were working this scene another shooting came in on the east side, approximately 10:25 a.m. We are treating those as related based on the suspect vehicle."
A police chase for the suspect ensued on Rochester's northeast side. Officers were in pursuit on North Goodman Street when gun shots rang through the neighborhood.
"A Monroe County sheriff's deputy was on foot and was fired upon by the suspect while the suspect was driving," said RPD Deputy Chief LaRon Singletary. "Officers returned fire at the suspect. Both the deputy and the suspect's vehicle were struck at N. Goodman and Forrester."
"The vehicle ended up crashing into a driveway into other vehicles. Shots were exchanged. The suspect suffered a fatal gunshot wound and was taken into custody," said Monroe County Sheriff's Office Chief Deputy Michael Fowler. "There were many rounds exchanged, so we're still putting together the fatal round."
Officials say the violence could have been much worse. 
"We believe the suspect had every intention of killing many more people than he was able to do," said Rochester Mayor Lovely Warren Wednesday afternoon. "But because of the response of the Rochester Police Department, the Monroe County Sheriff's Office and the New York State Police, this tragedy was brought to an end before it got worse." 
RCSD School No. 16, located near the Post Avenue homicide investigation, School No. 25, located near the second shooting investigation on Frances Street, and School No. 33 on Webster Avenue were among the schools on lockout as police investigated throughout the respective areas. Just before 12 p.m. RPD officials confirmed that all three school lockouts were lifted.
RCSD posted a statement regarding the incident:
On Wednesday morning, the Rochester Police Department informed the Rochester City School District of an investigation of multiple shootings. The District quickly acted to place Nathaniel Hawthorne School No. 25, John Walton Spencer School No. 16, and John James Audubon School No. 33 on lockout. This means that classes continued normally, but staff brought all children inside the building, and secured and monitored exterior doors.
As police expanded their investigation to locate the suspect, the District briefly placed all schools on lockout. We made this decision out of an abundance of caution as the safety and well-being of our children is a top priority. By late morning, police informed us the situation is contained and the suspect is no longer a threat.
Unfortunately, several students at area schools are directly impacted by this violence. We have sent counselors to those schools to work directly with those students. We are also working with colleagues from Monroe County to send appropriate support and resources to all schools in proximity to the shootings.
It is important to note we implemented our RCSD lockout procedures quickly and effectively. While this shooting is a tragedy, the quick action of our teachers and administrators may have prevented an even greater tragedy. We are grateful for the hard work and dedication of the Rochester City Police.
A nearby neighbor on Post Avenue, Greselda Thompson, has lived in the area since 1982 and says she heard some yelling and saw a person running.
"All I heard was, 'Oh god, oh god.' I looked up and saw someone running, but that was about it," Thompson said. "I thought it was just a girlfriend thing so I went back into the backyard, I didn't know. It's been quiet. This street has been one of the nicest streets here in the 19th Ward. No problems — I thought it would be safe because the school reopened and it's right in the vicinity right there. This is crazy."