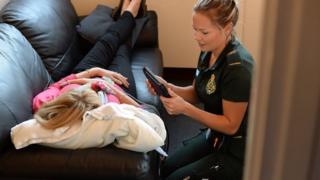 Paramedics are trialling a secure app to connect with specialist stroke doctors via video link to help treat patients.
The East of England Ambulance Service Trust (EEAST) said one in five stroke patients do not show obvious signs.
It said its pilot with Ipswich Hospital enables experts to advise whether a patient has had a stroke, and whether they need hospital treatment.
Project leaders said it will "help patients have the right care".
The ambulance service said the app meant the consultant could see the patient, ask them and their family questions about their history and symptoms, and discuss the case with the paramedic.
It said a decision could then be made on whether the patient should go to hospital or could receive more appropriate care elsewhere, such as their GP surgery.
If the consultant believes the patient has had a stroke, they can arrange for the ambulance crew to bypass the emergency department and head straight to the hospital's specialist stroke unit.
It means patients can have specialist tests and scans immediately and treatment can begin sooner, the ambulance service said.
Lynda Sibson, from the East of England Stroke Telemedicine Partnership, said: "We can bring the stroke consultant into the patient's home or wherever they are, and get that expert opinion when we need it.
"We're using technology to help patients have the right care at the right time in the right place."
Hospital consultant Dr Sajid Alam said it was the "future of medical care".
The pilot has been funded with a £5,000 bursary from the Eastern Academic Health Science Network.
Six paramedics have been trained for the trial which started this month.
It will run for three months or until it reaches 50 patients, and will then be evaluated.