Ambreen Razia always describes herself as a British Asian Londoner. "The Londoner bit matters," she says emphatically. This became more apparent to her when she toured her first play, The Diary of a Hounslow Girl. It was spring 2016, and the nation teetered on the brink of the Brexit vote. Written and performed by Razia, the play – a one-woman comedy about growing up Muslim in Hounslow, west London – had received critical acclaim in the capital. But on tour she faced hostility.
"In these small towns, I felt like an outsider and thought, 'Is this my country?' I won't name the place it happened, but the posters of the play, which had a picture of me wearing a hijab, were torn down. I knew on the tour that we'd be leaving [Europe]. My friends were all saying we would stay, but I knew. London's such a bubble."
It is a bubble she clearly loves though, and her writing is imbued with an urban sensibility. Her second play, POT, is about a member of a girl gang who speaks in a streetwise, south London patter. POT deals with the links between poverty, abuse, the foster care system and criminality. A supernatural twist takes it beyond the gritty realism of the stage set: a beer-can-strewn safe-house for gang members on a council estate.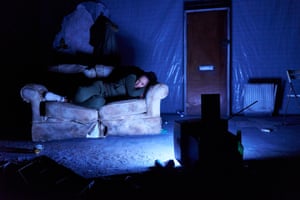 The title refers to pockets of communities and subcultures – visualised by Razia as "pots" – that exist side by side; Razia also wanted the title to suggest a pressurised, "boiling pot" environment. The play was inspired by Tracey Miller's autobiography, Sour (2014), which tells of Miller's former life inside a Brixton girl gang, but also by Razia's facilitation work with young people. "I worked at the Arc theatre in Barking with schools and prisons and I met girls aged between 12 and 16 to talk about things like domestic violence, FGM and gangs. I couldn't believe they were experiencing what they were at that age – how it must be for someone to carry a gun for their boyfriend, or to put grams of cocaine in the side of their mouth and then to sell it on the street at night."
What she wanted to capture in POT was a specifically female experience of gang culture, because "it is really different from that of a male. It's a man's world from the stories I've heard. Women slot in to that."
Razia was born in Colliers Wood, south London, to a Pakistani-born single mother. She never knew her father and grew up in a household of strong women, including her older sister ("she's always got my back") and her late grandmother, whose first name Razia adopted as her last. "Women are always at the forefront of my stories," she says. "Television and stage so often write women to be vulnerable, passive, oppressed, but it's really important to show women who are strong, who are uncompromising. I saw a lot of very strong, resilient women while facilitating."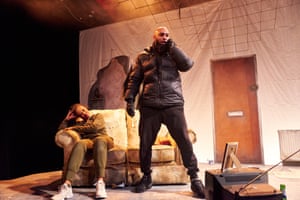 The play opens as Metropolitan police statistics reveal a surge in London's gang culture and knife crime. The timing of Hounslow Girl had a similar urgency, hitting the London stage just as three schoolgirls from Bethnal Green hit the headlines for going to Syria to join Isis.
Razia became involved in the government's counter-terrorist Prevent strategy, taking a deradicalisation course and working with schoolgirls from Bethnal Green Academy (which the three girls had attended). "I was instilling female solidarity between girls so they didn't feel isolated. Whether it's a terrorist organisation or a street gang, they are driven by a feeling of wanting to belong."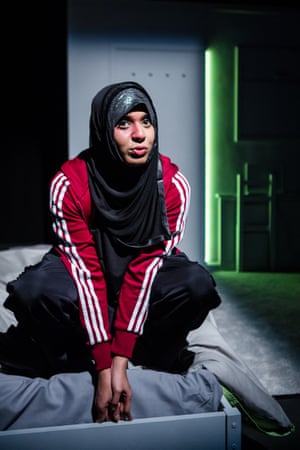 That play is now on the cusp of becoming a BBC Three TV series, Hounslow Girls, starring Razia. Filming started this month, and the pilot will air in early 2019. When she first got the call to say that it would make a great TV show, she wasn't convinced. "I thought, 'No, it's a play!'"
Razia is still only in her mid-20s (she won't reveal her exact age for fear of losing acting parts). In the five years since leaving university, she has established her reputation as a writer of immense promise. But her first love was acting.
Having realised how limited roles were for Asian women, she wanted to create richer parts. The lack of diversity in theatre, she believes, is partly down to a shortage of non-white writers. "I'm now part of the casting process so I can see how it works," she adds, "particularly for Asians."
As for experiencing prejudice herself, she says: "You speak to other artists who have paved the way, and they have gone through worse," adding that some of the actors from the groundbreaking TV comedy Goodness Gracious Me have spoken to her of being racially abused and attacked in parts of rural England.
Her third play, Keeper, is now being developed in the Emerging Writers' Group at the Bush theatre. "It's a psychological thriller about a Muslim brother and sister, about the gaslighting that goes on in the culture, about mental health and about how much they feel at home in Britain."
Hard-hitting stories about identity and under-privilege draw her, she says, and she wants to keep bringing little-heard voices to the stage. "There's a lack of representation of Muslim stories and these are the stories I want to tell. It's not my brain telling me to do it, but my heart."