An anti-feminist Melbourne blogger who defaced a memorial to the slain comedian Eurydice Dixon in a "political statement" has launched an appeal, saying he previously had an incompetent lawyer.
Andrew Nolch, 29, pleaded guilty in September to criminal damage for painting a 25-metre-long penis on the grass at the Princes Park memorial in Carlton North, days after Dixon was raped and killed.
Nolch received an 18-month community corrections order with 200 hours of volunteer work, but on Friday he launched a county court appeal against his conviction and sentence, claiming his previous lawyer rushed the case and only did it for media attention.
After his initial sentence last month Nolch said Dixon's death had been used to promote an anti-male agenda.
"I'm an advocate for equal rights for both genders. Not all men are bad," he said. "I did the political graffiti because the mainstream media and feminists turned the tragic murder of Eurydice Dixon into one giant political man-hating event.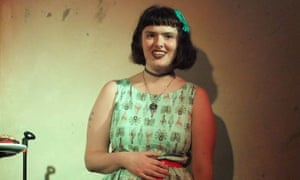 "This mainstream media propaganda and man-hating upset me so much that I thought I had to make a statement for men's rights."
Dixon, 22, was raped and killed after performing a comedy gig on 13 June. A 19-year-old man has been charged with her rape and murder.