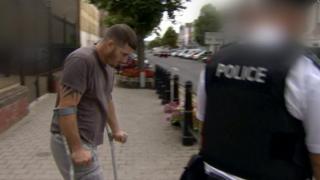 An American accused of attempting to murder three men in County Antrim while on honeymoon has returned to the US.
Nicholas Warner, 31, from Summerville in South Carolina had his bail varied last month to allow him to return home.
At Ballymena Magistrates Court, a lawyer acting for the electrical engineer confirmed that his client is now in the US.
He was charged after three men were stabbed in a fight outside a bar in Ballycarry on 11 August.
The accused faces six charges, including three attempted murder charges, possessing a knife, assault occasioning actual bodily harm and causing affray.
Evidence outstanding
At a previous court hearing a lawyer for Mr Warner said that while his client admits having a knife he will argue he acted in self-defence.
Today a prosecution lawyer said there was "quite a lot of evidence outstanding" in the case.
She added that a medical for Mr Warner was "outstanding".
The case was adjourned for 8 weeks until 29 November.
The district judge said that Mr Warner remains excused from attending court given the fact that he is working and residing in the US.