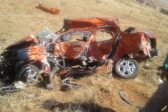 Five people, including two toddlers, died when a lorry collided head-on with the car they were traveling in at Mochadi village, Nebo, this afternoon, Limpopo police said.
"During this accident, one passenger from the sedan survived with serious injuries and five other occupants including the driver, died instantly. The deceased are three adults and two toddlers. The eight passengers who were transported in a truck including the driver, sustained serious injuries and were taken to hospital for medical treatment," said spokesperson Colonel Moatshe Ngoepe.
The cause of the accident is not yet known. A case of culpable homicide is being investigated.
The accident follows another fatal crash on Tuesday where three people died. Police said the deceased were travelling in a sedan that collided head-on with a truck along the N1 highway.
The deceased members of a Pretoria church were identified as Phiringu Jasper James, aged 26, Beston Khabarovsk, 30, and Brian Grant, aged 26.
– African News Agency (ANA)
For more news your way, download The Citizen's app for iOS and Android.