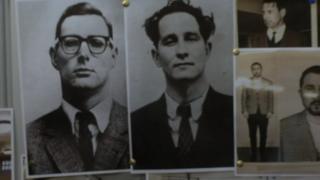 Photos used as evidence by detectives trying to crack the Great Train Robbery have gone on display at a care home.
The pictures and memorabilia were hoarded by Ch Supt Malcolm Fewtrell, who led investigations into the 1963 heist which captivated the public.
His grand-daughter agreed they could go on display at Penhurst Gardens Care Home in Chipping Norton, Oxfordshire.
Insp Stephen Hookham said the "treasured collection" would bring back memories for many residents.
The robbery saw 15 men escape with £2.6m from the Glasgow to London mail train on 8 August – a record haul at that time.
Among the items on display at Penhurst Gardens are crime scene photographs of stolen money stashed in walls and suitcases.
Insp Stephen Hookham of the Neighbourhood Policing Team said: "It's quite a treasured collection. It's taken a little while to put together, it's been beautifully bound… and it's been handed on from generation to generation.
"The Great Train Robbery was a big crime, so it's a good discussion point [at the care home].
"It will evoke memories in people of what they were doing at the time. It's a good conversation starter."
One resident, Monica, told the BBC: "It put a different perspective on it… It was many years ago of course, I was quite young in those days.
"I think it's quite important to preserve these things for posterity.
"Things are not all bad nowadays… there were pretty awful things that went on many years ago as well."
The train robbers struck near Cheddington, Buckinghamshire, grabbing 120 bags of money.
In January 1964 police had gathered enough evidence for 12 of the 15 to be put on trial in Aylesbury, and all were convicted by April.
Charlie Wilson and Ronnie Biggs later escaped from prison.
Wilson was caught in Canada in 1968, but Biggs became the UK's most famous fugitive until he handed himself in to police in 2001. He died in December 2013.