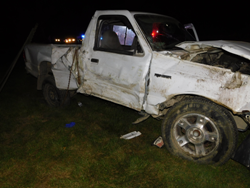 Franklin County, In. — A Brookville man was captured shortly after fleeing the scene of a crash Friday, September 21.
A report from the sheriff's department says around 9:36 p.m. a pickup truck driven by James Smith, 50, was eastbound in the 21000 block of U.S. 52 when he drove off the side of the road. Smith hit a culvert, went airborne and struck several trees. After responding to the scene, police found Smith hiding behind a nearby residence.
Smith was treated for minor injuries at Margaret Mary Health and charged with operating a vehicle while intoxicated, operating a vehicle under the influence of a controlled substance and leaving the scene of a property damage accident.