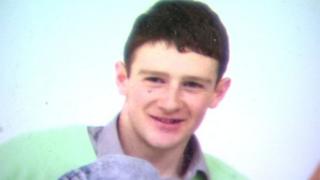 A 21-year-old man charged with the murder of a young father in west Belfast has avoided being returned to custody for breaching bail conditions.
Lee Smyth failed to sign with police on time and did not respond when officers called to check on him.
A High Court judge said Smyth acted with "either bravado or foolishness" in relation to the breaches.
Smyth is charged with the murder of Christopher Meli, who was killed in December 2015. He denies the charge.
Mr Meli was beaten to death at Doc's Lane in the Twinbrooke estate.
Two other people are also charged with the killing.
'Flaunting bail'
Smyth, who is originally from Dunmurry, was released on bail last month to an address outside Belfast.
Last week it was revealed that Smyth is under threat and has panic buttons installed at the property where he is currently living as part of increase security measures.
The information was disclosed as prosecutors claimed he had been "flaunting" bail conditions by signing late and failing to come to the door during police checks.
Smyth said he was on sleeping tablets and had slept through attempts to waken him.
He was ordered to court on Wednesday to provide a full explanation.
'Let me down'
Counsel for the defence told the court: "He tells me he did sign late because he was feeling unwell."
He added that his client had been unacceptably "tardy" but urged the judge to give him one final chance.
The judge allowed Smyth to remain in bail before confirming another review of his adherence to the terms in six weeks.